Executive Leadership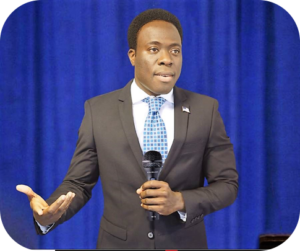 Marquis Codjia is the Founder, Chairman and Chief Executive Officer of our Expert Network, overseeing a collective of more than 400 professionals. The Network's managerial team consists of 20 FILs (Function & Industry Leaders) — experts with broad knowledge of specific economic sectors, who are de facto practice leaders — and a Board of Advisers, who provides general guidance, strategic vision and contextual counsel to the Network.
An investment banker by training, Mr. Codjia has worked at global-finance powerhouses such as Morgan Stanley and BNP Paribas, helping clients solve diverse operational challenges — from business financing and working-capital strategy to turnaround planning, risk management and regulatory compliance. He provides strategic guidance to organizations large and small, offering them a glimpse into their competitors' workings through benchmarking techniques and competitive intelligence.
For several years, Mr. Codjia has helped clients cope with the quintessential business trifecta: profitability, competitiveness and risk management. Meshing industry expertise with hands-on savvy, he helps clients analyze operational specifics in order to find solutions that are financially additive. Mr. Codjia also assists clients in making informed decisions and in expanding the business know-how that fuels factor productivity growth. In one sentence: He helps clients climb atop their target industry – and stay there.
Mr. Codjia regularly conducts research in his fields of interest, to stay abreast of the latest developments and to provide clients with timely, actionable advice. He has written extensively on subjects as varied as marketing management, financial analysis, risk administration and business planning — and has authored nearly 5,000 articles that were subsequently syndicated to prominent news organizations, including eHow Finance, Target Marketing, Houston Chronicle and Entrepreneur.
Mr. Codjia graduated from Rutgers University with an M.B.A. in Financial Management and Investment Analysis, and holds several professional certifications — including Certified Public Accountant and Certified Financial Manager.